Light Up The Night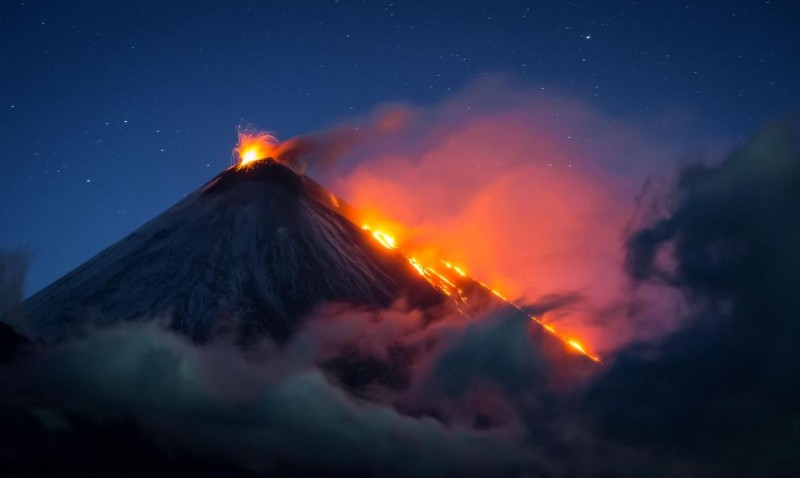 Klyuchevskaya Sopka is a volcano in Russia that stands more than 15,000 feet tall. The volcano has been active since at least 1697, when an eruption was first recorded.
The Golden Cape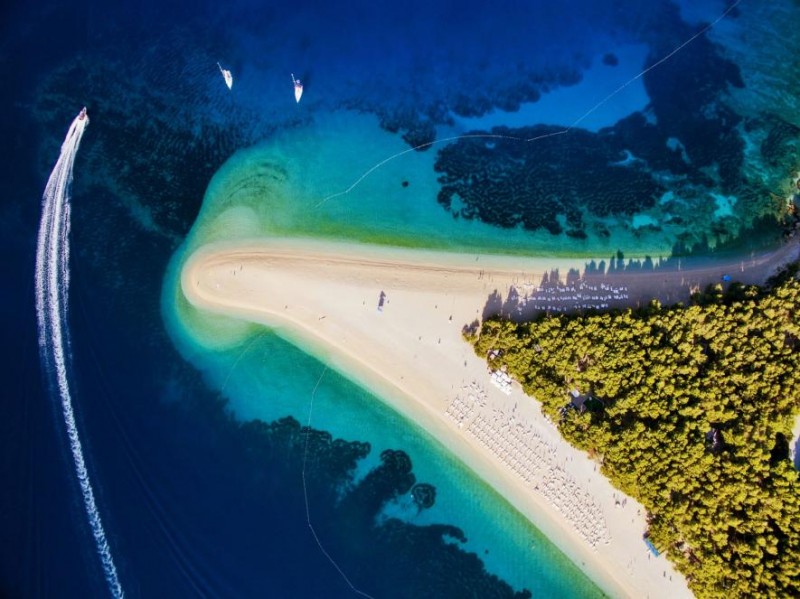 An aerial view captures the bright colors of Croatia's Golden Cape in this National Geographic Your Shot Photo of the Day.
Glow Worms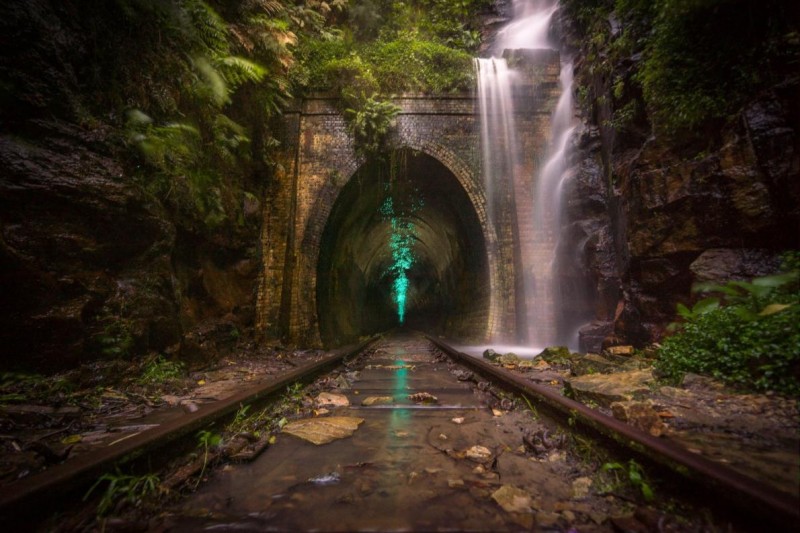 Your Shot photographer Josselin Cornou says this shot was only possible under a very specific condition: "after sunset during a torrential rain." She says that new inhabitants have found a home here, in what was once a busy train tunnel in Helensburgh, New South Wales, Australia. "A city of glow worms are populating this old train station, providing beautiful lights on rainy days."
Over the Line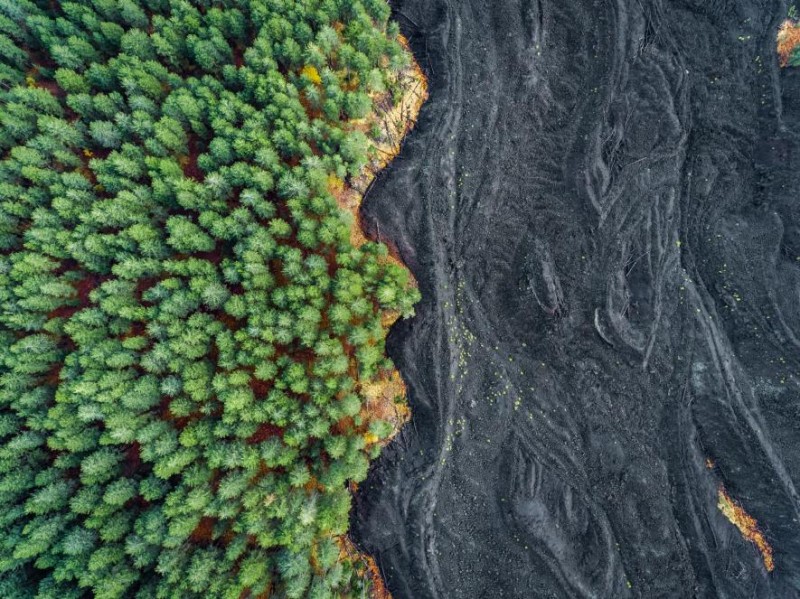 The eruption of Mount Etna in 2002 sent lava to devour this forest in Sicily. It was such a dramatic event that footage of it can be seen in Star Wars: Episode III – Revenge of the Sith, as part of the landscape of the planet Mustafar.
True Blue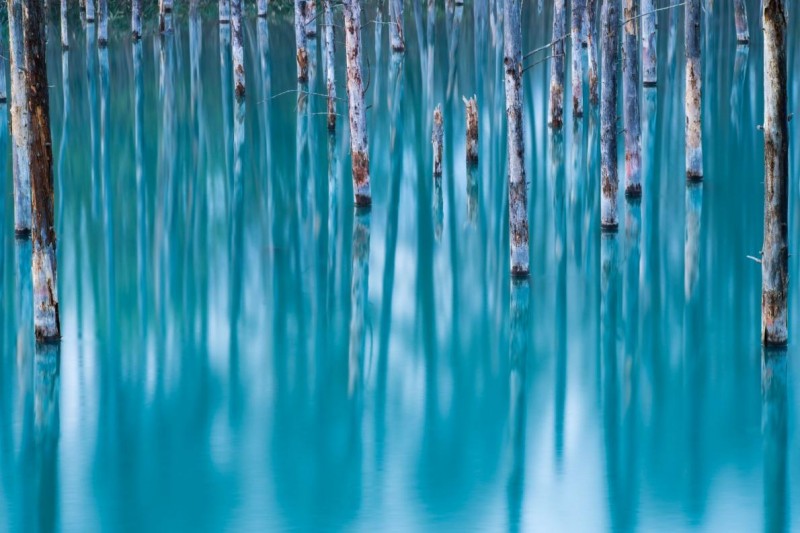 Trees are reflected in a blue pond in Hokkaido, Japan. The exposure time of 25 seconds makes this photo look like a painting.
Sunrise at Shiprock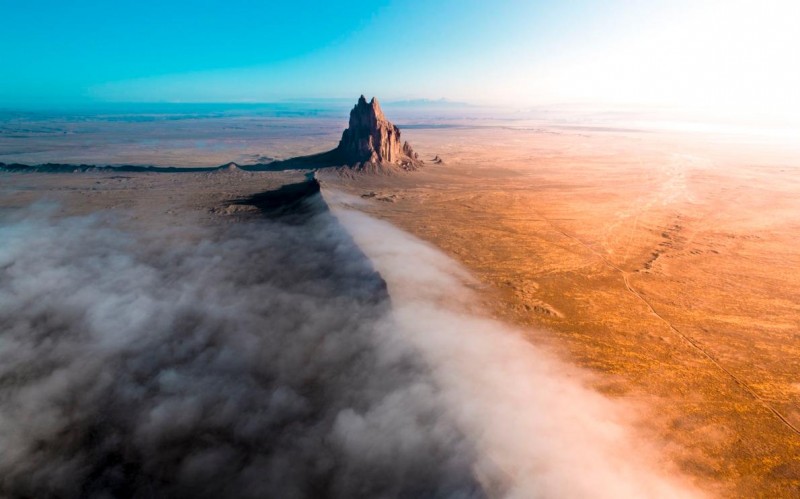 Early morning fog sweeps over northwestern New Mexico, where Shiprock stands 1,583 feet tall. The formation holds special significance to the Navajo people, who govern the land surrounding it.
Italian Backcountry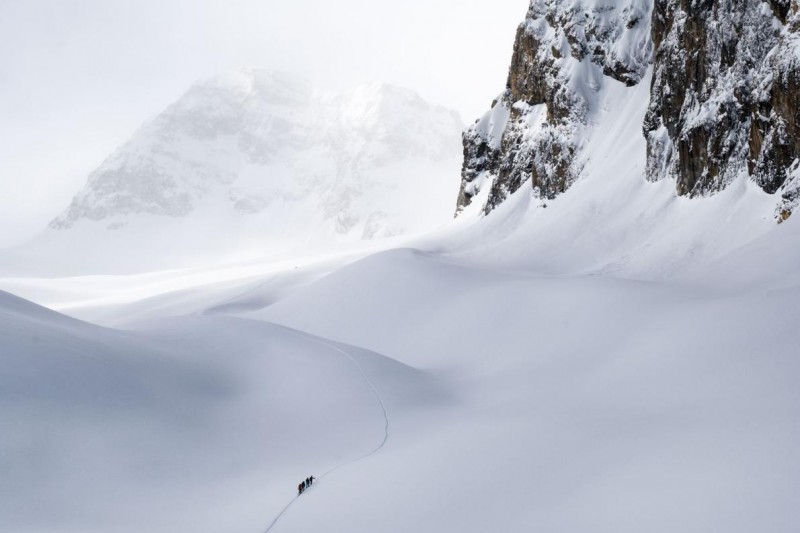 Backcountry skiers ascend Punta Calabre, a mountain that sits on the border between France and Italy. By the end of the trek, the skiers will have gained almost 4,000 feet in elevation.
Between the Lines
Mist surrounds the jagged edges of flysch on the Basque Coast in Spain. Flysch alternates thin and coarse layers of sediment, making for a dramatic landscape. But Your Shot photographer Fran Llano writes that the view is more than just aesthetic, it's informational. "Layer by layer," he says, "the rocks offer a unique vision of the geological features of this area, reading a rocky book full of information."
Down Below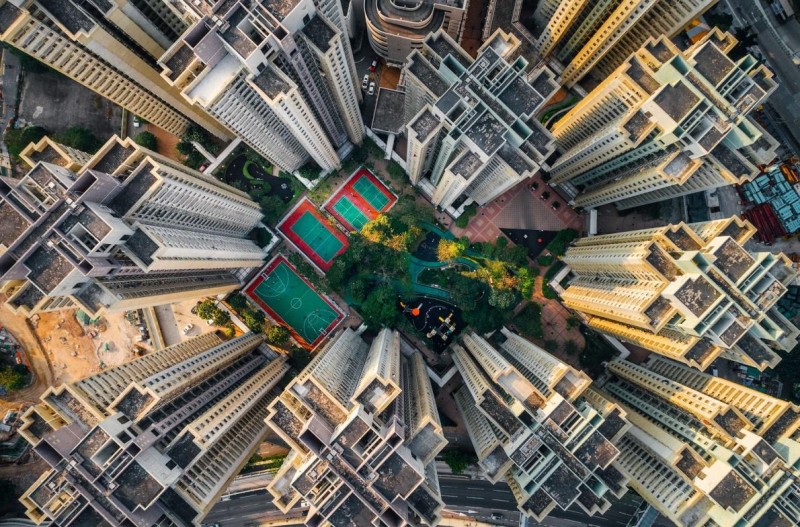 Green space nestles between enormous apartment complexes in Hong Kong. Hong Kong is one of the most crowded places on earth, with more than 7 million people living in 427 square miles.
Sea of Clouds
Your Shot photographer Mitsuhiko Kamada used a long exposure to photograph these dreamy morning clouds in Tsubetsu, Hokkaido, Japan. Tsubetsu is a small town in the northeast of Japan, home to about 5,000 people.
Chocolate Falls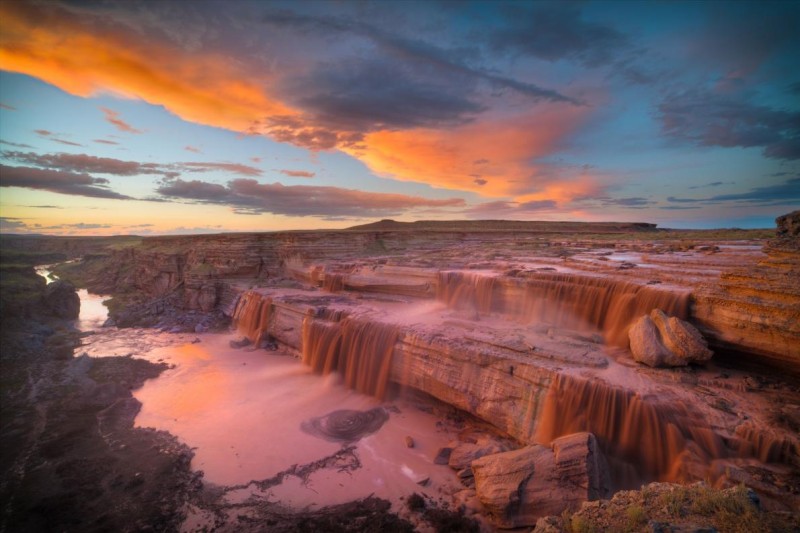 The sun sets over Grand Falls on the Little Colorado River in Arizona. "This view shows the effect of summer rains over the desert," explains Your Shot photographer Bernhard Michaelis, "resulting in muddy flows which give the falls another name: Chocolate Falls."
Night Lights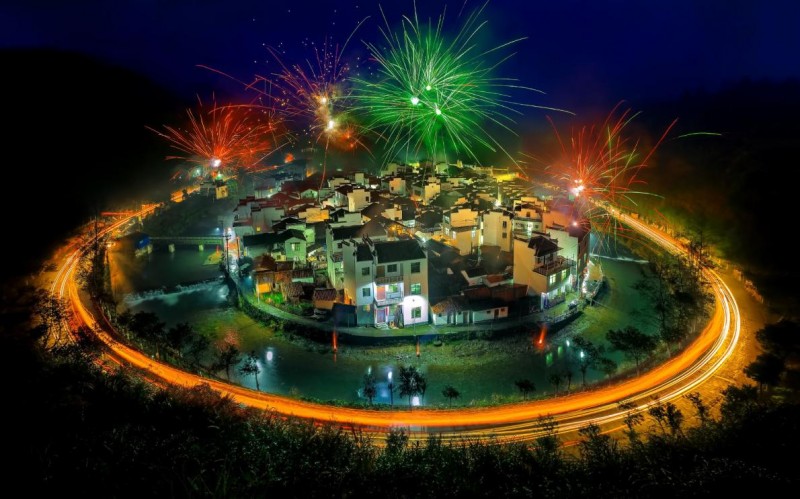 A long exposure captures the final day of festive New Year celebrations in Jujing, a small, round village in China. The first day of the Chinese New Year is determined by the lunar calendar, and celebrations continue for fifteen days, ending with the Lantern Festival.
Golden Haze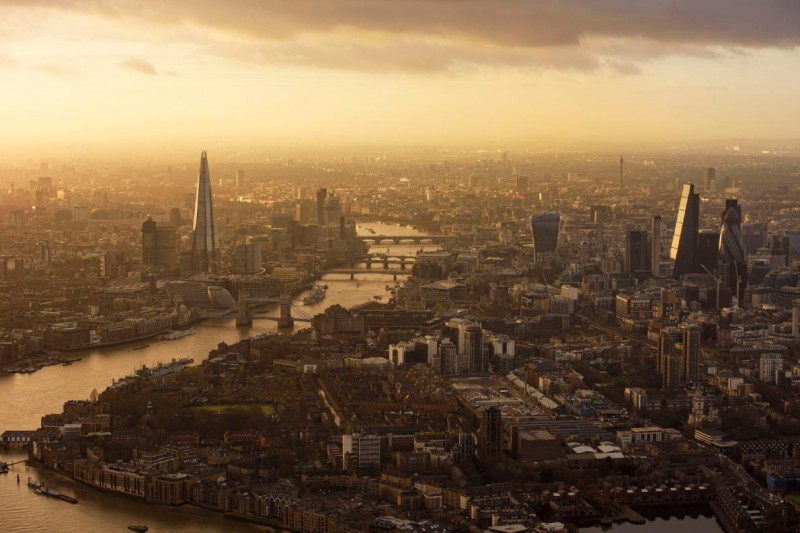 A haze covers London during golden hour one January day. The tall building on the left is known as The Shard. At 95 stories high, it's the tallest building in the United Kingdom.
Red Sky at Night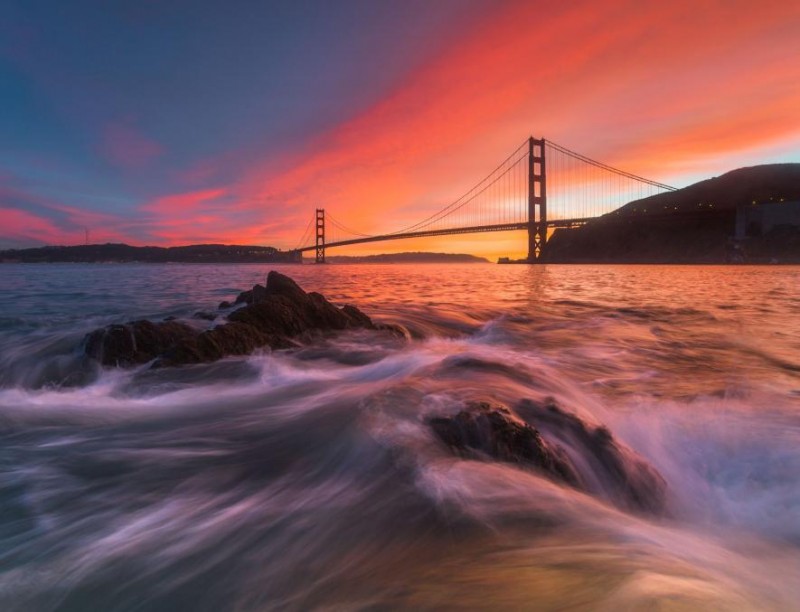 Capturing this long exposure of a sunset behind the Golden Gate Bridge was a calculated adventure. Your Shot photographer Benjamin Stein had to wait for the perfect tide and the perfect sunset. In addition to patience, it required "standing on the side of a large rock, with water up to your knees and seals swimming around looking at you," Stein says.
Hot and Cold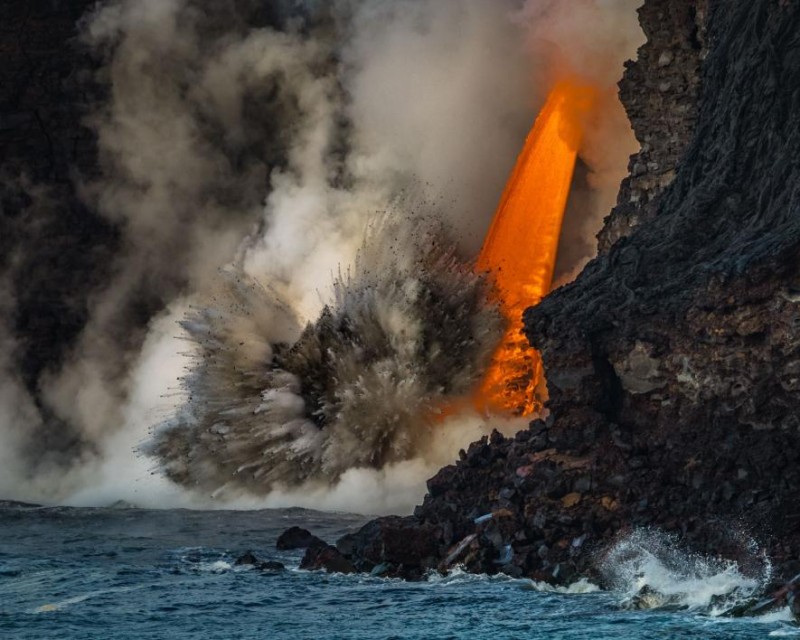 Out of the Kīlauea Volcano on the island of Hawaii, a fountain of lava streams into the ocean. When the hot lava hits the cool waters, an explosive reaction sends rocks and debris flying.
Look Up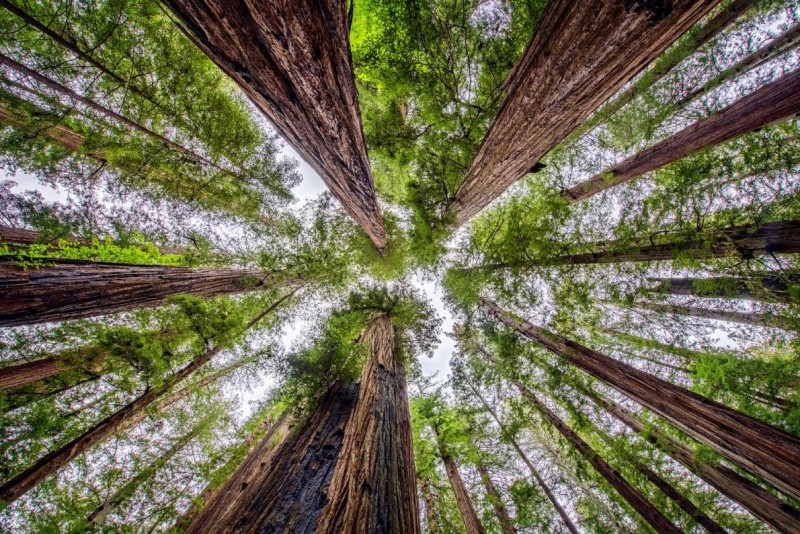 While driving through Northern California, Your Shot photographer Josh Heidebrecht experienced a moment of photographic serendipity after he and his friend pulled over to see what they could find in the grove. "While searching, a squirrel briefly chattered above me, causing me to look straight up," he remembers. "Luckily I had my wide-angle lens with me so I could capture this perspective of the partially burnt redwoods towering above us in an eerie silence."