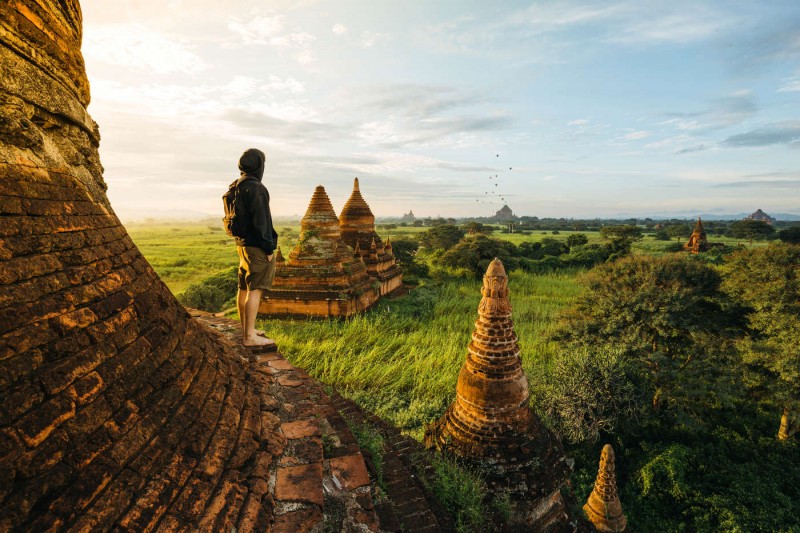 The two months I spent in Southeast Asia while backpacking were a little overwhelming, because there was just so much to look at, all the time. When you're there visiting, it's impossible to escape the sensation that you're missing a lot of stuff. Which you are. Even trying to pick which country to spend your time to visit is enough to blow out a few million sensory neurons in a Google Image rabbit hole (which is why we broke down the merits of each country for you in this nifty guide).
The natural beauty of the region is unanimously hyped by every human who's ever been there, and rightfully so. But it's also the human element -- the sizzling of fresh fish cooking in the street; the miraculously functional chaos of the traffic, in which you'll see scooters loaded down with entire families, plus livestock -- that makes Southeast Asia so beautiful. Narrowing down each country to a single, most beautiful destination nearly hospitalized me, but of the very many sights across Southeast Asia you don't want to miss, these are some of the best.
Indonesia - Kelimutu Lake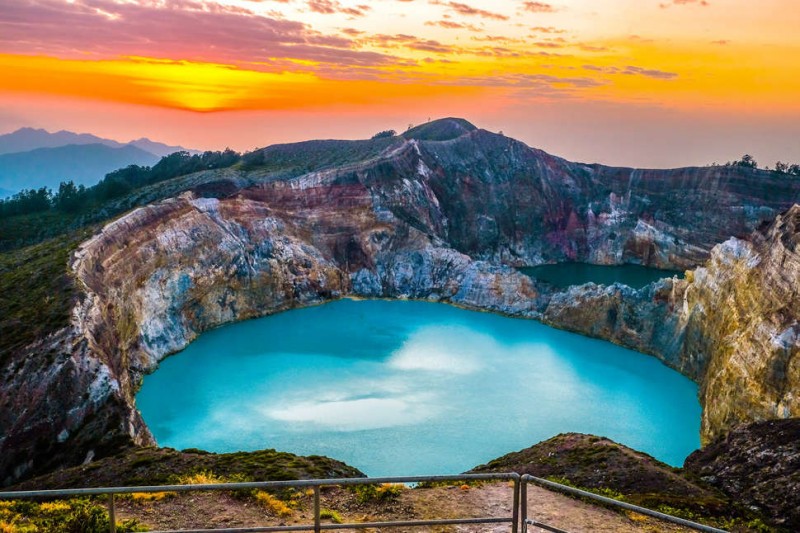 At the top of Indonesia's Kelimutu volcano lie three crater lakes that change colors -- one is usually blue, while the other two are usually red or green, but each shifts under its own power; we don't yet fully understand why. Summer is the best time to see the colors at their most vibrant. Hike in at dawn to see them with the sunrise.
Brunei - Kampong Ayer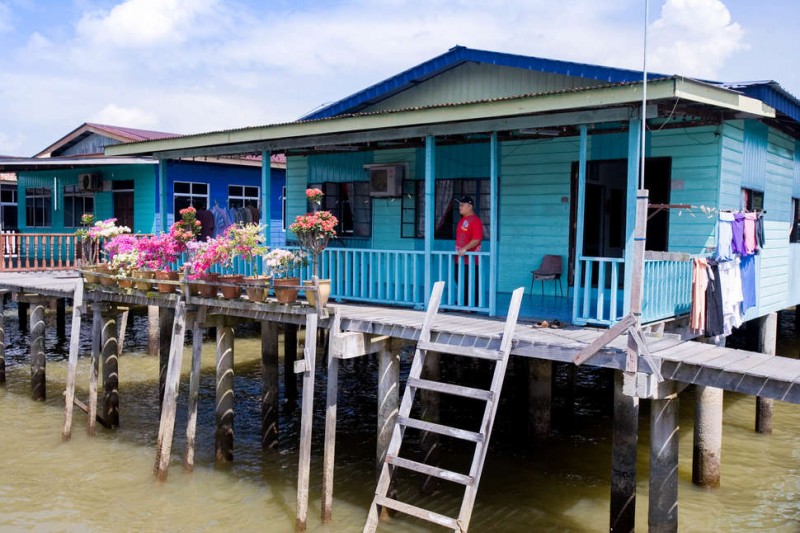 Brunei's most beautiful sight is consistently listed as the Sultan Omar Ali Saifuddien Mosque, which is indeed stunning. But it's hard to ignore the fact that this mosque is Brunei's most popular attraction simply because Brunei does not have a lot of attractions -- or at least not on the scale of tourism heavy-hitters like Indonesia and Thailand.
None of those countries have anything on the scale of Kampong Ayer: the world's largest water village. The "Venice of the East" houses more than 30,000 people in dwellings built entirely on stilts, connected by walkways and bridges. The only reason you don't see it more often is because it just hasn't gotten as glamorous a treatment by photographers as, say, Bali. But it's still badass, and on your visit you can tour parts of Kampong Ayer by boat.
Laos - Kuang Si Falls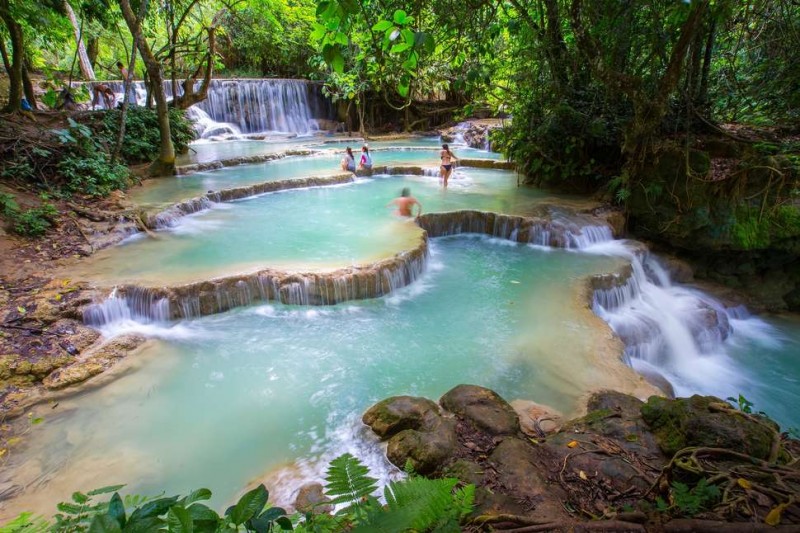 These are the kind of waterfalls I thought only existed in Croatia. Tucked away in the forest near Luang Prabang, these cascading falls create a series of pools with clear, turquoise blue water. Your first and only question should be whether you can swim in them, so I am delighted to inform you that yes, you can swim at Kuang Si. However, at least one of the series of pools is sacred to locals, so if you see a 'no swimming' sign where you were about to dip make sure you scoot yourself over to one of the others.
Malaysia Tun Sakaran Marine Park, Borneo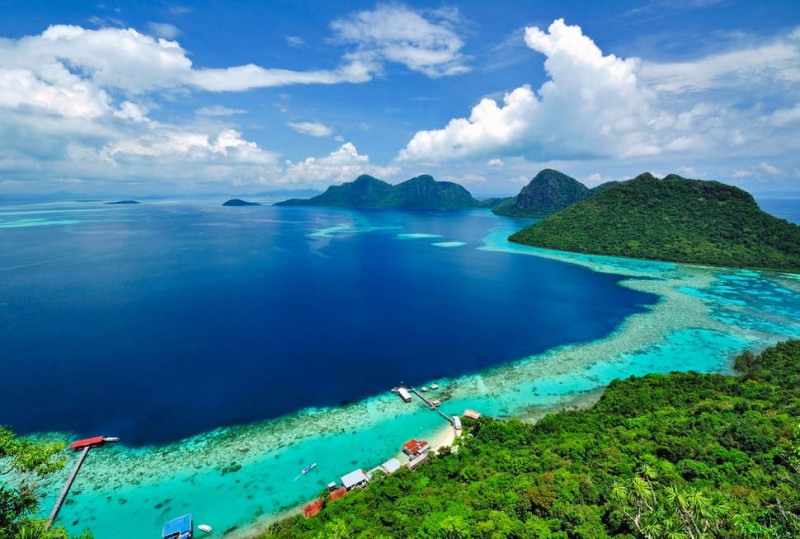 I spent a wholly unnecessary amount of time debating the most beautiful thing to see in Malaysia, and couldn't really narrow it past Borneo. The Malaysian part of this island is where I saw pygmy elephants, giant orangutans, and sunbears. It's also home to Tun Sakaran Marine Park -- which also goes by the name Semporna Islands Park -- a protected area comprising eight small islands. A few thousand people live there, many of them in stilt houses.
Philippines - Banaue rice terraces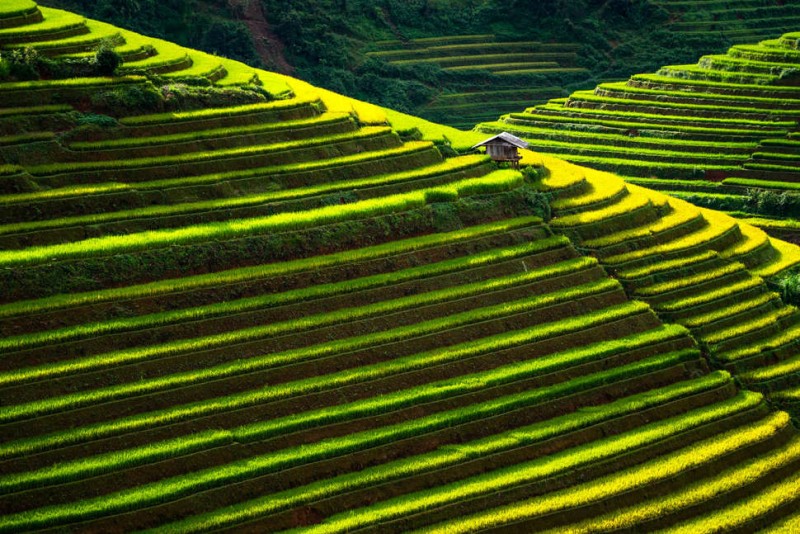 Among the most beautiful sights in the Philippines are the Banaue rice terraces set against the mountains of Ifugao. The UNESCO World Heritage Site isn't always the easiest to access, but if you're willing to get a bit wet and muddy on the walk in, it's absolutely worth it. Plan your visit for October, when the paddies are at their most lush and vibrant.
Timor-Leste - Atauro Island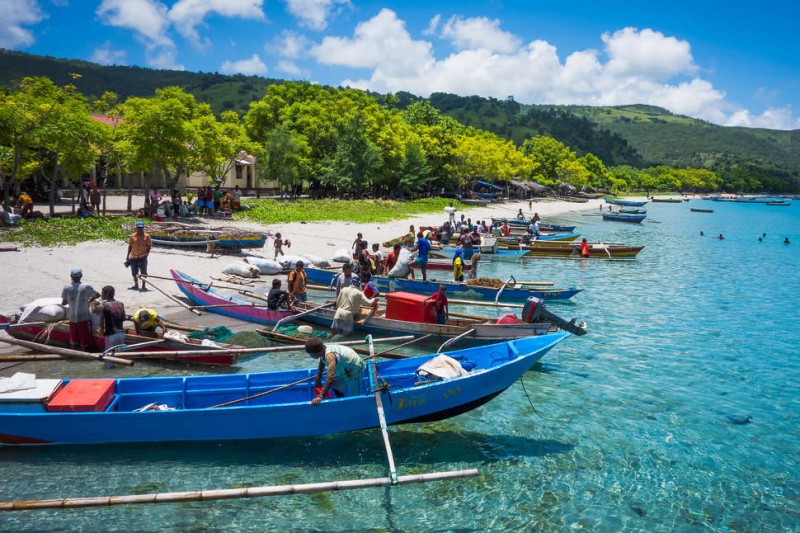 Atauro Island, which sits a few miles North off the coast of East Timor and has a population of just a few thousand people, is surrounded by the most biodiverse waters anywhere on Earth. There are quite literally hundreds of different species of fish, some of which have only ever been sighted at this island. This means A+ diving, but you don't have to be a scuba pro to enjoy the stunning reef and marine life -- snorkeling will do ya just fine.
Singapore - Gardens by the Bay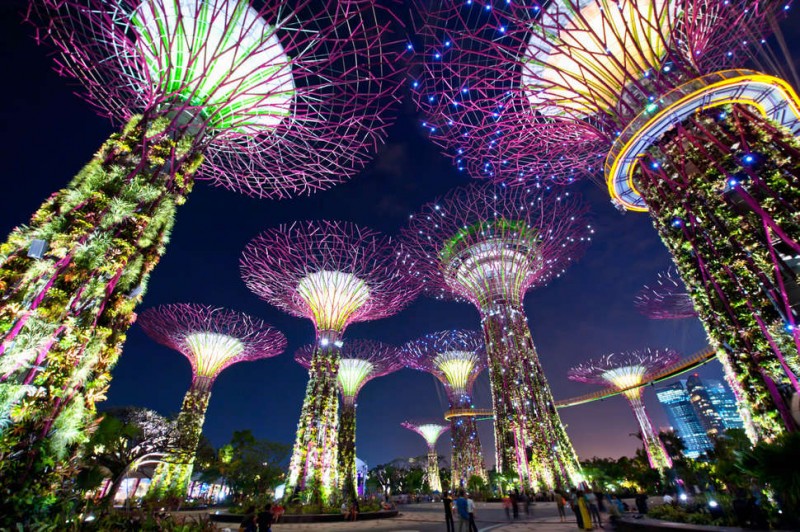 The natural beauty of Southeast Asia is so "holy shit" inducing that it's tempting to focus on nothing else. But Singapore especially is a place where you want to give the infrastructural beauty its due. So it's fitting that one of the country's most incredible sites -- Gardens by the Bay, which is technically not one but three gardens, though all are indeed by the Bay -- should be a hybrid of those settings. The 250-acre nature park was designed to make the urban center of the island feel greener, kind of like what city planners in Manhattan did with Central Park. Central Park, however, does not look like something out of Avatar.
Cambodia - Angkor Wat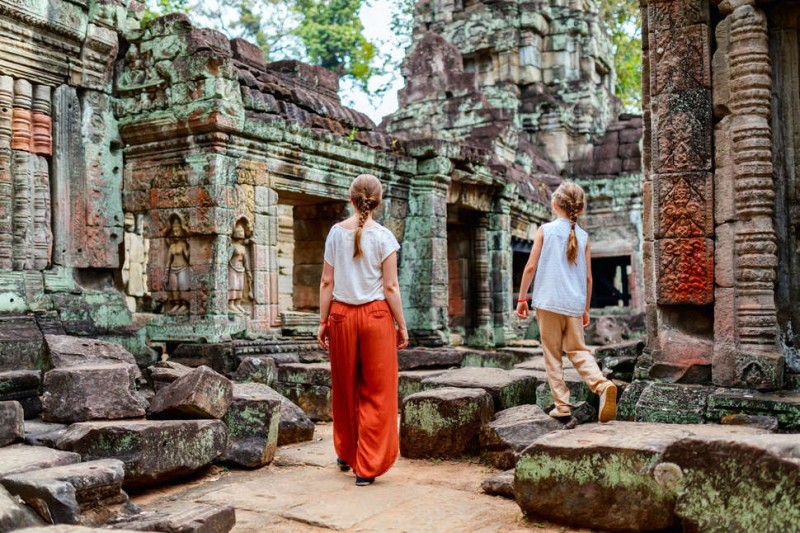 You've almost certainly seen images of Angkor Wat before, if not on Pinterest then in Tomb Raider or Indiana Jones and the Temple of Doom. Widely hyped attractions like this can often disappoint when you finally see them in real life, but the ancient temple of Angkor Wat, to me at least, fucking delivered. It is breathtaking. The complex is often crowded, so the best way to see it is to go as early as possible -- meaning, you should head over before dawn. Rent a $1 bicycle for the day to get around. It will not be a comfortable bicycle, but it will be a $1 bicycle. Soothe your body later with a weed-infused "Happy" meal.
Myanmar - Bagan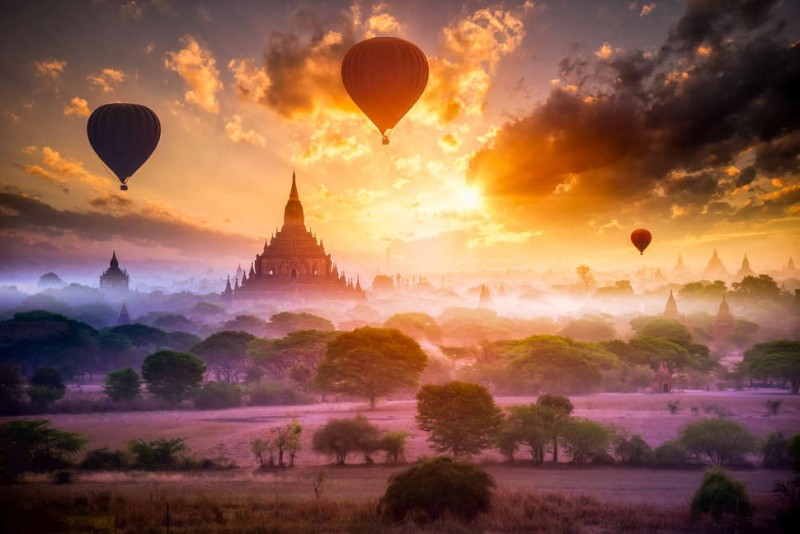 Each November, fireworks and hot-air balloons fill the sky above the ancient city of Bagan for Taunggyi Tazaungdaing, the annual Festival of Lights. Bagan itself is filled with impossibly ornate Buddhist temples and stupas -- the largest collection anywhere in the world. For anyone who's ever been fascinated by archaeology, it's one of the most coveted destinations to reach. You'll be charged a fee to enter (because the whole area's of archaeological importance) but once you're in, you're in. Rent a bike to get around; there is much to see.
Vietnam - Lan Ha Bay, Cat Ba Island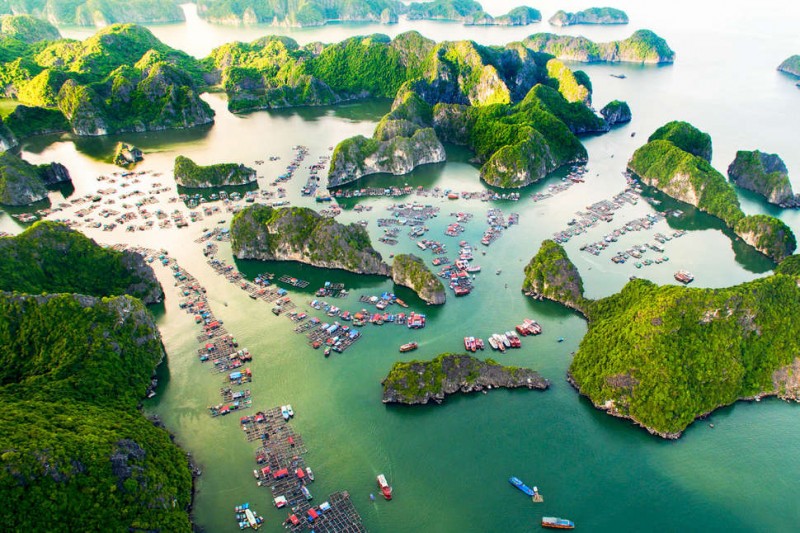 I know, right? The floating village of Cat Ba Island, which contains around 200 homes, dates back thousands of years. The bay itself is home to several hundred islands, of which Cat Ba is the largest -- you can rent a boat to explore, or spend the day swimming. There are well over 100 hotels in the immediate vicinity, so you can take your time if you understandably want to stay in the area a while.
Thailand - Chiang Mai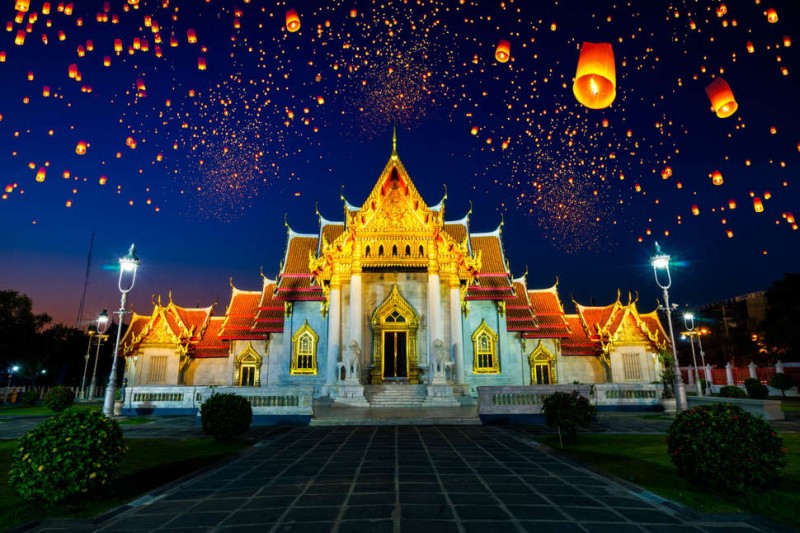 For the most beautiful sight in Thailand, I nominated a steaming bowl of khao soi -- a coconut-curry noodle soup, and the best breakfast you'll ever have -- but my editors inform me that khao soi is not a place. The other go-to option here is generally one of Thailand's gorgeous islands (Koh Phi Phi and Phuket are among the most popular, though I personally recommend Ko Muk). But I'm quite sure you've already seen plenty of pictures of those, perhaps on a screensaver somewhere.
Equally beautiful but far less hyped is Chiang Mai, the mountainous northern city where you'll eat some of the best food in your life, all enhanced by that crisp mountain air. If you're there on November 23 -- a full moon -- you can catch not one but two iconic light shows: Loy Krathong, when people release candle-filled baskets into the river, and Yi Peng, which people release lanterns into the night sky.